Vintage Featurette: Connie's Golden Shoppe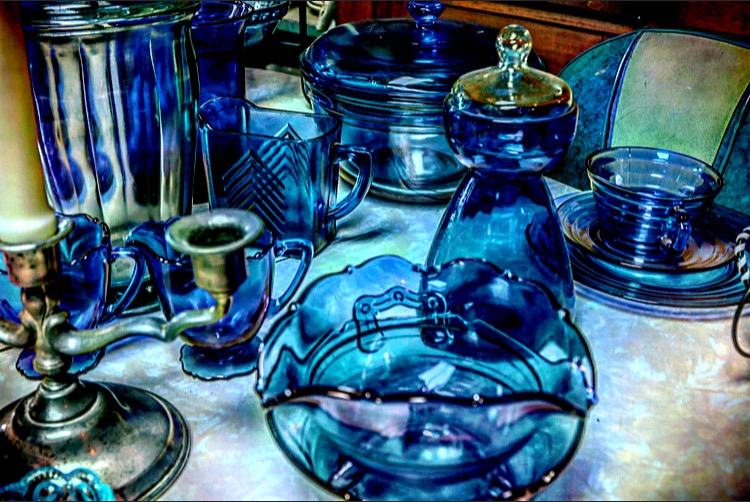 On a sweltering 90 degree August day, we step foot on the dusty wooden front steps of
The Golden Nugget Antique and Flea Market, a 40 year old indoor / outdoor nostalgic institution in Lambertville, New Jersey.  We make our way through a maze of tiny shops that line the makeshift hallways…shops that specialize in antiques, collectibles, and all things nostalgia…shops both big and small, bright and dark, tidy and cluttered, but all as unique as their proprietors.
When we first meet Connie, she is stooped over a dangerously large stack of ceramic dinner plates.  "Do you think this is still too tall?" she asks.  She stares at the plates for a few seconds and decides it is a wiser choice to lift them off the ground and neatly divide them amongst teacups on a shelf inside her shop.  "That's probably safer," she convinces herself.
Although I don't see any kids in the market on today's visit, I wonder out loud whether she's ever had children break anything in her shop.  She laughs "Believe it or not, they break far less than the adults.  I love for kids to come in the shop and play with the egg beaters and things they've never seen before.  I love it when they ask 'Mom and Dad, what's this?'"
I marvel at all of the items that seem to spill out of Connie's shop like a pot overflowing with gold.  Connie's Golden Shoppe sits on a bright and sunny corner on the 2nd floor of the market.  While she also has another shop on the other end of the hall where she sells slightly more modernized items, her main shop is a flagship for vintage kitchenware, holiday items, and dog paraphernalia, specializing in the Golden Retriever breed.
The inside of the shop is a visual treat for the senses.  There are things hanging, floating, dangling, and balancing everywhere.  Each corner more interesting than the next.  And although the shop is jam-packed it never feels cluttered or chaotic.  When asked if there is a method to her madness, she explains that the items in her shop are organized by color…a built in map or guide that, she says, customers love to follow. 
It is organized in a neat retail-like fashion and gives one the feeling of stepping back in time to a country kitchen, a 1950s kitchen, a turn of the century kitchen – any kitchen you can
imagine, you will find in Connie's shop.  A haven for Pyrex, Farberware, and Vision Glass Cookware…this is where old rocket-shaped blenders, hard metal can openers, and Chrome wrapped Formica dinette sets go to rest until they are claimed by their next owner.  A place that rivals the kitchen giants of Williams-Sonoma and Sur La Table, who so often attempt to produce products that mimic the nostalgia behind everyone's favorite gathering place – the kitchen.
A neighboring shop owner stops by to assist Connie with a large cabinet.  He muses, "They just don't make things like they used to.  You gotta' have a little nostalgia with it all.  When Connie came in and set up shop, she really cornered and mastered the kitchen market.  I'm happy for her."
Connie never set out to specialize in kitchenware, but says it was all a happy accident.  "I absolutely love to cook.  There is no major reason for the kitchen stuff.  It just sort of evolved this way.  This is what I love.  Besides, everything is a specialization nowadays.  If you want to stand out and succeed you've gotta' have a focus."  Connie doesn't just collect pretty things, she is obsessed with doing research about each item she brings into her shop.  "I want to know the history of each piece and what it's used for."
Her  hard work proves useful as she gives us a tour of the shop and spews out facts about the 100th year celebration of Pyrex, the various colors of Depression glass, and her newest project, a 20th century Hoosier Cabinet.  She opens each compartment…the flour bin, the bread drawer, the spice rack and rattles on fun facts about Indiana's popular cupboard.  "I can't wait to put it together.  I'm just waiting for the bottom piece."  The joy of her work, clearly displayed on her face… I ask, Is there ever anything you've come across that you can't sell?  With a sly grin she carefully chooses her words.  "There are things I won't sell for a while.  But eventually I'm able to part with them."  For the moment, she's holding on tight to a vintage enamelware cake dish.
Connie's love of collecting began as a child when she'd visit flea markets and antique shops with her father.  "I remember going to the Englishtown and Neshanic Station flea markets.  I've always collected and sold things my whole life in some shape or form."  Connie's  expertise in buying and selling has been reinforced by a 35 year career as a Real Estate Agent.  "I'm more of a 'mom' when I'm helping someone buy a home.  If it's not the perfect home for the buyers, I am caring and honest with them and I will let them know."  In some ways, she is the same when it comes to her shop.  "My biggest goal for what I do, is to make sure that the things in this shop go to the right people.  It's an emotional process.  One time, I was selling this awful-looking Tupperware to this woman.  She was so nostalgic about it that she cried.  Her mother used to have the same one.  That's when I knew that she was the right person for that piece."
Connie first decided to set up shop at the urging of her children
when her personal collection began to overwhelm her home.  A friend soon recommended the Golden Nugget Antique and Flea Market where she has been selling off her precious collection ever since.  When asked if there are any other collectors in the family, she proudly gushed about her children and grandchildren "My daughter, she throws everything out.  But my youngest son, I see it in him.  He doesn't collect as much as I do, but he loves it."
In a town like Lambertville, where its quirky residents serve as evidence that it is possible to create an environment where rural meets hipster and country living commingles with funky art and traditional antiques, one has to wonder, can someone really make a living selling what others have once discarded or left behind?  "It was difficult for a while.  The antiques business was struggling for some time.  But now, fresh blood is starting to help pick things back up again.  It's taken real effort.  I found that I have to run it like a retail business.  I have a small table set up outside in the flea market to encourage visitors to come inside."
When asked if she takes advantage of promoting on social media or selling on sites like Etsy or Ebay, she shook her head and adamantly responded, "I don't have a website.  I want the interface.  I love interacting with people, hearing their stories, and learning why they want the pieces.  I don't want to spend my day on the computer selling things to people I've never met and not knowing where the pieces will end up."
Throughout the shop, there is a recurring theme that catches my eye.  I point to a fuzzy stuffed Golden Retriever resting inside a mixing bowl.
She escorts us to
a sign propped outside of her shop.  "It all ties into the dog.  Everyone tries to buy the Golden stuff but it's the only thing in this shop that is not for sale.  Make sure you get a good picture of this sign."  The sign reads:
Run and play daily
Love unconditionally
Be quick to forgive
Follow your instincts
Never stop digging 'til you find what you want
Be loyal and faithful
Life is short, pet often
Sometimes it is best to just sit close and listen
Accept all of life's treats with gratitude.
She introduces us to Blitzen, a bouncy 11 year old Golden Retriever who prefers to mingle outdoors with the flea market guests where he doesn't have to worry about knocking things over.  Today he celebrates a birthday.  He runs into the market and excitedly swirls around me seeking affection.  With my black pants now covered in his golden fur, I give him a loving pat on his head…he opens his mouth in a pant and saunters off down the hall to eagerly show me his birthday cake.  I follow…and there is where I meet Angus.
Angus is a 7 year old Golden Retriever who lays breathing quietly on an area rug that sits on the floor of a neighboring shop.  His warm eyes shift in my direction but he does not move.
Two years ago, Angus was diagnosed with Lymphoma.  I curiously wanted to ask Connie a question that I had hoped would not offend her but before I could, she quickly jumped in, "At five years old, he was still a puppy.  He was so lively and was always running around.  I couldn't bear to put him down.  He gets chemotherapy treatments every week.  He had a remission once but the cancer came back.  Alot of Goldens get cancer.  He's getting a lot of medication, so we're hoping for another remission soon.  That's where all my money goes…toward his treatments and toward rescuing other dogs.  I would love to save more dogs."  Connie became very emotional.  She waved her hand in a sweeping motion, indicating toward the other shops.  "Everyone here…they're my friends.  They've been so helpful.  When they found out about Angus, they all took up donations for him."  As her voice cracked, she uttered one final sentiment on the subject.  "I  just couldn't put him down.  He needed a chance. "
So whether she's rescuing dogs or salvaging vintage treasures, Connie doesn't shy away from difficult situations or hard work.  "I get tired sometimes, but this is what I want to do.  Sometimes people find things that are old, broken, or dirty and they choose not to keep or clean them.  Then I look at it and say 'It's worth a shot!'  Sometimes I will spend up to a week working on a piece, making sure it is clean, intact, and functioning."
I ask about her source of inspiration and whether she watches popular antiquing shows like Flea Market Flip.  She humors me.  "Yes, I watch those shows, and I don't mind repurposing things without destroying them, but I am a purist.  I just try to clean them up and keep them as they were.  What I love about my shop and what a lot of people don't think about when they walk through here is that almost 95 percent of all these pieces were made in the U.S.A. and it was all made with a purpose. 
See this, rocket-shaped blender?  This was made during the 1950s, the Space Age.  It's those little details that make a big difference between what I sell and the new stuff that's in stores today."  I look around and for the first time notice the symbols of American pride displayed throughout the store…the stars and stripes on a large banner draped at the entrance and the mini flags positioned inside teacups and printed glassware.
So where does Connie go shopping for all of her unique finds?  "I go to estate sales and thrift shops, but most of my favorite things I find right here at the Golden Nugget, before I even walk in the door.  People here have a good eye for these things.  They sell some great stuff.  My favorite has to be the Pyrex.  That's what brings people in the door and I'm obsessed with it."
At the end of our tour, Connie wistfully stood outside of her shop.  "I want to do this as long as I can.  And I want my dogs here with me.  I would go crazy if I couldn't do this.  I'm too hyper.  This is what's going to keep me young."
So whether you want to browse through rainbow-colored Pyrex bowls; pet giant stuffed Golden Retrievers
who dress in seasonal outfits and are currently donning red, white, and blue party shades in honor of this past 4th of July; wish Blitzen a happy birthday, or offer Angus a comforting hug; Connie says, when visiting her shop, there is only one rule…"You've gotta' mention your mom or your grandma.  If you do that, you win me over.  I can say 'okay, you're a member.'"
With all the heartwarming and thoughtful things that Connie does for everyone else, we have to wonder how can we repay her…What does one get for a gal who has it all?   She says there is only one thing: "I want a sign that reads: My grandmother had it.  My mom threw it out.  And I'm buying it all back."
Connie's Golden Shoppe at The Golden Nugget Antique and Flea Market
1850 River Road / Route 29, Shoppe #215
Lambertville, New Jersey 08530
*Click here for more info on The Golden Nugget Antique and Flea Market*
Thanks for checking out Connie's collection. If you'd like us to feature your collection in our Vintage Featurette, visit our Vintage Featurette page and sign up. If we're in town, we just may stop by!