The Genie in the Bronx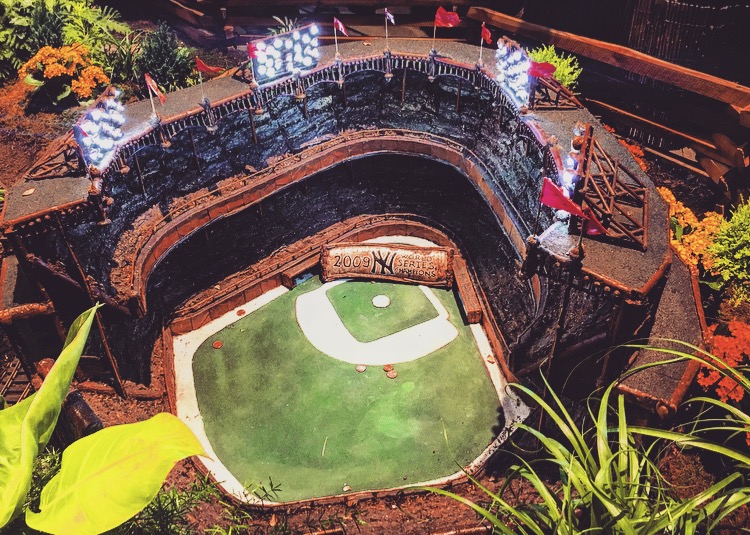 "It's a world of laughter, a world of tears

It's a world of hope and a world of fears

There's so much that we share, that it's time we're aware

It's a small world after all…"
On January 1st, we all feel colossal. We stand firm and tall like a sequoia that can see for miles above all the rest. We're starting fresh and everything is new. We've made the decision to walk on to face whatever life plans to bring in the next 364 days. But as the days go by, they wear us down and by the end of the year, we feel as microscopic versions of ourselves facing giants that seem impossible to slay.
I don't know what it is about this time of year that gets me thinking small…
Last year, I focused my sights on a miniature Christmas village in an attempt to find the positive in a what seemed like a hopeless situation (Vintage Featurette: Nuni's Collection). This year, things get "small" again, except, instead of the village, I found some hope during a magical late night visit to the Bronx.
This has been a difficult year for me as I am sure it has been for many. I've never experienced anything like it. The lows have been dark places where lifting my head sometimes didn't even feel like an option and the highs were nice, but too brief. I know things will change…they always do. I just wish there was a fairy godmother or genie in a bottle somewhere that could help speed things up or perhaps soften the blow.
As I wistfully wait for the new year, in hopes that it will bring about that much needed change, I find common ground in cartoons like The Smurfs; movies like Ant-Man; Honey, I Shrunk the Kids; and the 1988 favorite that captures this entire feeling all in one word: Big.
Hollywood has produced countless movies from a dwarfed point-of-view and has capitalized on the idea that half the battle is just learning how to approach life from the right perspective.
We all remember 12 year old Josh Baskin at the carnival, facing off with the creepy animatronic fortune-telling machine that would literally change his life overnight.
The sight of the genie's eyes, glowing red as his mouth opened and closed in anticipation, is quite unforgettable. We've probably seen the movie so many times that we all know what's coming.
Zoltar says make your wish…
We mouth the words right along with Josh: I wish I were big.
The next day, I'm no Tom Hanks. I haven't grown out of my jeans (well maybe a little bit due to all this holiday eating). And thankfully, I didn't suddenly grow hair in unexpected places.
What I did get was an evening invitation to the New York Botanical Garden: Holiday Train Show. Tonight, that is where we are.
After several months of carrying the world on my shoulders; of going through the motions of the laughter and the tears; of hoping and fearing; of feeling like everything in life is so much larger than little ol' me and all of it out of my control…for once, I wanted to feel "big".
We arrive at the show and hand our ticket to the agent who scans it with a cheerful "All aboard" (as a nod to the train show). Now, she didn't look anything like Zoltar…her eyes weren't red and she seemed too animated to be a robot, but I swear, when I stepped passed her, I heard her whisper: "Your wish is granted…" You probably didn't hear her, thinking instead she made a reference to the refreshment stand on the left. But I heard it. My very own Genie- in the Bronx.
We enter the exhibit and instantly get lost in the world created by Paul Busse and his team at the Enid A. Haupt Conservatory.
The landcape, bridges, and building structures are botanical architectural feats developed using fallen berries, bark, acorns, pine cones, leaves, twigs, and any other natural material available to them. An entire world, carefully crafted, and inserted into another already existing glass-covered world of plants, trees, and moss. Everything small, yet larger than life, all under one dome.
We duck under the Brooklyn Bridge and past the Statue of Liberty. We tip-toe around Yankee Stadium and the Rockefeller Center Christmas Tree which seems nothing more than a budding bush. We're impressed at the massive scale of Pennsylvania Station and take delight in the fact that we don't have to crane our necks to take in all the whimsy of Coney Island's Wonder Wheel and Cyclone.
We lose ourselves amongst the resident palm fronds and vines. The height of the conservatory dome, together with the twinkly lights, and the trains that zip past us, create an Alice in Wonderland effect and suddenly it all becomes clear…
Someone once shared a story with me about a time he was stuck in traffic. He said all traffic had come to a stand still. Engines were turned off. Some people stuck their heads out of the window in an attempt to check on the road ahead. Others had gotten out of their cars and were wandering in between them; desperate for a bathroom break. He was starting to get antsy himself, until he looked at the guy in the truck next to him. The guy with the higher perspective.
The truck driver sat, calmly reading a newspaper and noshing on a banana. The driver could see far ahead and knew the source of the traffic. He estimated how long it could take to fix the problem and was prepared to wait it out. The others down below – the ones in the small cars with a limited point of view – had no idea what was going on or how long it would be before they could move on with their lives. And so, they panicked. Most of them, just sitting there, no doubt wishing they owned giant monster trucks and could trample their way out of there.
Feeling big is not about usurping power. It doesn't mean we get to push over or trample all the undesirable things in our path. It's simply about seeing things from a different perspective.
Part of a Constantine P. Cavafy poem translated by Rae Dalven reads, "And melancholy, I came out on the balcony, came out to change my thoughts at least by looking at a little of the city that I loved, a little movement on the street and in the shops."
I love New York and everything in it is magical, but tonight I learned that the small streets, tiny trains, leafy buildings and shops, the conservatory, the Bronx, all of New York, and yes, even all of our problems, are so small in the scheme of things.
They say that the train show creators change the display every year. All of that energy and careful detail exerted onto this one project only to change it all up next year. I guess, that is the same thing that happens with us. All year long, we toil and work at certain things, when next year it's all going to be something different.
The Sherman Brothers composed It's a Small World as the theme song for a Disney attraction at the 1964 New York World's Fair thinking it would play at the event only and that would be it. Yet, 52 years later, people are still finding comfort in the fact that, "It's a small world after all, no matter if you're big or small."
The nostalgia in all of this lies in remembering that, in the midst of it all, in the moments when we feel small, we will always be giants in the eyes of the people that love and support us. All we have to do is turn to them for the "pick me up."
We stand tallest in familiar places and, of course, with the passing of time, another January 1st will come around. That is always our hope.