My Superhuman Poblano Power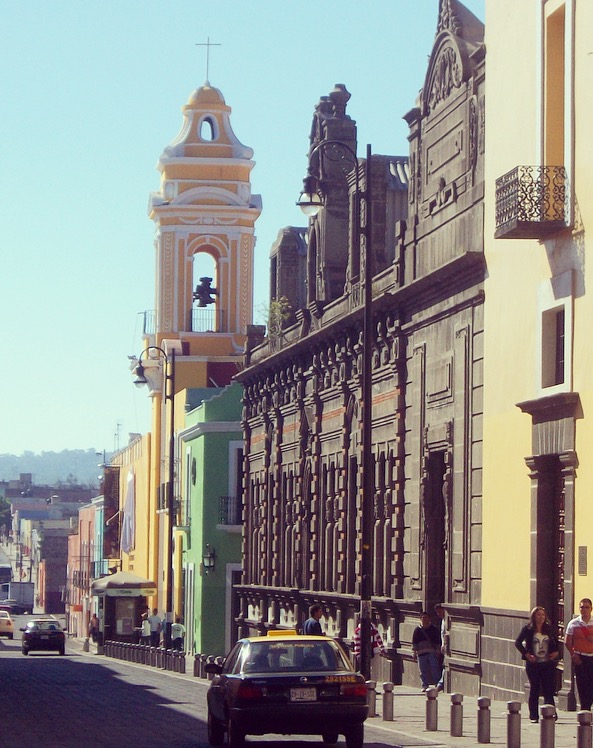 Imagine you had the power to induce nostalgia…
It might be something you do or say…It could be a special perfume, a hug, a nickname, or even a meal you have prepared that has the power to bring up strong emotional feelings and memories of the past in others.
Nostalgics often spend hours daydreaming, reminiscing, and dabbling in the past, but often, the most joy is found in sharing it with others.
Professor of Psychology, Constantine Sedikides, had this to say about his feelings of nostalgia in the New York Times article What Is Nostalgia Good For?
"…I couldn't help thinking about the past, and it was rewarding.  Nostalgia made me feel that my life had roots and continuity.  It made me feel good about myself and my relationships.  It provided a texture to my life and gave me the strength to move forward."
With something this good, why not share it?
So that is just what I did.
I had the opportunity to spend Cinco de Mayo with friends who recognized it as more than just an Americanized boozy holiday.
My friends actually hail from Puebla, Mexico, where the Cinco de Mayo celebrations originated in 1862, after the Mexican Army defeated the French in the Battle of Puebla.
Puebla – famous for its churches, volcanos, ceramics, and most of all, its cuisine – is a place they'd never forget.
Having recently lost a father and a grandmother – who served as pillars for their heritage, family traditions, and their main connection to Puebla and all that they know of Mexico – they knew they'd never lose those memories but wondered whether the traditions would soon fade away.
I'd hear them comment about the serenading Mariachi band they'd hire for every birthday and family BBQ.  They'd talk about the long hours spent with grandma in the kitchen while she used scissors to cut the stems and remove the seeds from what seemed like hundreds of peppers.  They'd mention helping pour a heap of salsa verde onto corn masa then wrapping it up with corn husks to make tamales and said their most meaningful family conversations took place while squeezed together around the dinner table with plates of piping hot tripe soup in front of them.
They talked a lot about family and food.
On their faces, happy expressions as they remembered all the good times but the eyes always seem give people away.  There was a look there that made me wonder whether they thought they'd never have those experiences again.
Far be it from me to try to take anyone's place or to attempt to replicate, in a Mickey Mouse fashion, any type of nostalgic experience, but I thought it would be nice to show them that nostalgia is not a melancholy thing.
Instead, like Sedikides suggested, I wanted them to feel like they had roots and that their life was still full of texture and will go on despite anything that has happened.  I wanted to make them feel good about themselves and about the relationships they still have.  I wanted them to recognize that they do have the strength to move forward and that, traditions, although they alter a bit over time – they can be continued.
What better way to achieve this than with – food.
Virgina Woolf wrote "One cannot think well, love well, sleep well, if one has not dined well."  While she referenced a much weightier subject, today, I'll take this quote at face value.  While I certainly don't purport to have any kind of superhuman nostalgic power to whip up memories at a moment's notice, I can; however, cook.  I'm just keeping my fingers crossed and hoping for a meal well cooked and one that helps me prove my point.  My "spicy" sense (pun intended) tells me a Poblano dinner should do the trick…
We play a slideshow of photos and videos from our most recent joint trip to Puebla; wherein, I snapped photos of things that left an impression on me.  A distraction of sorts as I secretly hope they don't notice me fumbling about the kitchen with the gazillion ingredients required to make two seemingly simple dishes.
While I am very familiar with the Mexican culture and the taste of their cuisine, I am not Mexican, and actually preparing a meal – one of their most popular meals – is a daunting task, especially when you know their expectations will be high.
We get through the photos and videos and they sit staring at me, taking deep curious whiffs, listening as the pots gurgle and boil on the stove.  Something pops in the oven and the blender makes an odd fizzing sound.  My hands, apron, and somehow, even my face, are covered in pumpkin seed bits; the cake-like batter starting to harden on my cheeks.
"Okay!!  (I let out a breathy sigh…) Dinner is ready!  (My voice does a weird high-pitched wobbly thing…)
I plate the dishes and place them on the table laden with my most festive Cinco de Mayo tablecloth.
I serve them, alongside, ice-cold glasses of Coca-Cola (best to ward off the peppery heat) and wait…feeling a bit like Linguini in the animated film Ratatouille, when he stands over the skeptical food critic's table with a grimace on his face, watching as the critic pushes a forkful into his mouth.
I stand and wait.  Simply watching and waiting for that moment.  And then it happens…the head lifts, the eyes widen, and the mouth – muffled by the sounds of food swishing about – makes THE sound…"Mmmm"
And there you have it!  The smell, the taste, the experience.  It all takes them back to a place familiar to them, complete with vivid memories of people, places, and things that once were and continue to be as such in their hearts and minds.  The present, at this very moment, doesn't seem to matter – and that's okay.  This is the moment I wanted for them.
One of them mumbles, "My grandmother always said the most important ingredient was love," in between bites.
Yes, we've all heard that before.  All grandmother's say that as a ploy to get you into the kitchen to spend time with them or to con you into eating food you otherwise wouldn't try, or to make you feel that extra little bit of warmth (ahem…guilt) as they lovingly stand over you – making sure you clean everything off your plate.
Odd the things people say when they are so caught up in the moment that they don't know what to say.
After their meal, they look up from their plate.  A look in their eye unlike the one that chicken, tamales, and tons of carbs can induce.  A look that only nostalgics recognize all to well.
"This was good…this was really good."
As much as I wanted the compliment to reflect my amazing cooking skills or my superhuman power to mold Poblano peppers to my nostalgic advantage…I knew they were talking about much more.
On any given day that has significance for you: May you hold on strong to your roots and traditions, cherish your loved ones, and eat lots of good food.