'Round & 'Round We Go…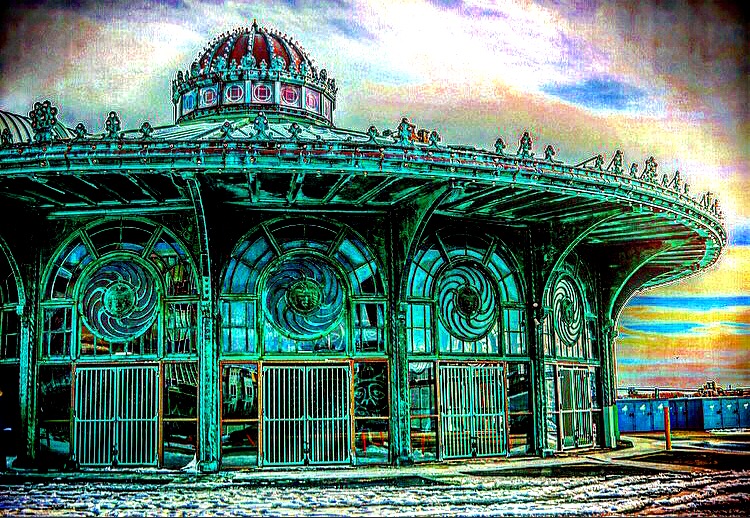 This winter has been quite the unconventional one.
Irregular weather patterns aside, hardest for me, has been the venture of adjusting to a new home, new routine, new furniture even…a difficult task for a hopeless nostalgic lost in memory-inducing rituals and habits.  I've had to adapt and practice a new way of doing things.  I've had to get used to the shininess of the new furniture rather than the worn look of the pieces I once favored, but that no longer match the new space. I could try to make them fit, of course, but they would only appear funny and foolish, much like anything else we try to force into our lives.  I've had to rid myself of all those things I once swore I could use in one instance or another.  I've had to donate, trash, and shred – a kryptonite of sorts for nostalgics.
The act of "moving" might set any nostalgic into a fit of Sylvia Plath-ridden mood swings.  In fact, the poet, described the process in that perfect, cloudy grey tone that she carried on with best…"And the danger is that in this move toward new horizons and far directions, that I may lose what I have now, and not find anything except loneliness."
Sometimes a career change, an illness, a move, or even something as simple as a birthday, could throw someone into a bit of a rabbit hole…a place where up feels like down, and forward feels a bit more backward.  A place where movement is paralyzing.
Recently, I found this photo in an article on the internet.
It's the middle of winter.   The waves pound hard against the sand.  The winds blow strong and frigid.  Atmospheric drops of water splash across their faces in the form of miniature shards…painful almost, but welcome.   I was drawn to the second person from the left, the woman looking at the camera.  With the crease on her forehead deeply pronounced, her arms tightly wrapped across her chest, the woman appears to be, among all other things, cold.  She doesn't seem relaxed or comfortable like the others.   There is a bit of anxiety about her, an uneasiness.  She is there, maybe because she wants to be or maybe because those around her, who look more at peace, invited her.   Never-the-less, she sits and bears it alongside all of the other matching wool blanket draped winter beach-goers…but she won't pretend she likes it there.  Perhaps, like me, she is rebelling…
There is a line in Christopher Isherwood's novel, The Memorial, that describes the mental state of a man who is torn between several paths in life.  It reads, "His boredom was like a nostalgia for the whole world.  He was homesick for everywhere but here."
And so it is, that in an act of rebellion…rebellion over my new move, over the uncertainty of my career and future, over the insecurity I feel about whether I'm making all the right decisions, over the anxiety that time is ticking and I might never achieve my dreams, and even over the boredom that underlies this feeling of not knowing what will come next but thinking that we will just have to settle for what is…I toss aside the shredder, and decide that we should flee to a place where none would follow on this blustery winter day.
The beach has always been a place where people go to clear their head.  Somehow looking out over the ocean seems to make everything alright.  It's as if the linear horizon somehow rearranges and aligns all of our scattered thoughts.  Maybe it has something to do with the expansive and unbridled nature of the ocean; the idea that something we imagine to be so wayward and unpredictable can actually be so controlled.  It is there, facing the waters, that the mind fixes itself and the answers we seek for life's questions come with a bit more clarity…or so I've heard.  Great art teacher and painter, Robert Henri, posed the question, "Why do we love the sea?  It is because it has some potent power to make us think things we like to think."
When I mentioned to family and friends that I'd be taking a road trip along the Jersey shore in the middle of winter, they thought I was crazy…"What?  Are you crazy?  It's freezing out!"  That is when I knew it was the right thing to do.
We set out for the shore with nothing but a light jacket in an act of pure I don't care rebellion.  We want to feel the cold…our punishment in this do or die moment.  We think: if we don't figure things out here, where will we figure them out? 
We drive on and on down through all of New Jersey's beach towns, stopping at every one with an accessible shore line.  We get out of the car, walk down to where the sand meets the water, and look around.  Each time, expecting to find something new, something different about the water…but we don't.
Some towns are more distinct and developed than others, and in-land we find all kinds of kitschy and beachy things that are part of the wonderful nostalgia that attracts thousands during the summer months but, the ocean itself, looks the same…it is constant.
Sometimes in life, because of all the decisions we have to make, we feel like we're just riding along on a dizzying merry-go-round, bobbing up one day and down the next, never knowing when it's the right time to hop off the horse, because even when the ride stops we still feel like we're moving — and all we're really seeking is a steady landing place.
We find our way to the top of this lighthouse with the cold burning right down to our very bones and the rotunda we stand on feeling like a spinning metaphor for our lives at this moment.
I'm reminded of that scene in the film, Good Will Hunting, the one where Will sits with his therapist Sean, and is confronted by the question he probably feared most in life, "What are you passionate about?  What do you want?"  When he fails to answer, Sean decides to terminate the session.  Immediately, Will stands up in a fit of rage, not because he is angry, but because he is scared.  He begins yelling, threatening, insulting, flailing his arms in the air, spewing saliva as he forces his mouth to say words as defensively as he could throw them…
Sean offers him one final out.  "Look at me…What do you want to do?"
Will stands there for what seems like an eternity, frozen, mouth agape, eyes wide, with everything seemingly trapped inside of him…
Sean concludes, "I ask you a very simple question, then you can't give me a straight answer…because you don't know."
Sometimes we do know what we want to do.  At least, we think we do.  We have ideas about what we would like to do; what would make us happy.  But we might be afraid to do it.  We might not know how to do it.  We might think it won't work out the way we've imagined it…that we could fail and that no one would recognize our efforts.  We fear doing things in vain.
Perhaps, in that moment that Will stood there frozen, unable to answer, these same thoughts were running through his mind…but Sean was right.  It was a very simple question that he asked – "What do you want to do?"
From up here, at this height, the miracle of the ocean is even more astounding.  The way the waves know just which way to move and where to stop.  They know how much force to use when they push in and how much restraint is needed when pulling back.  Behaving one way in the summer, and another in winter…one way at sunrise, another at dusk.  It knows what to do, no matter the circumstance.
It might be the wind.  It might be the cold.  It might be that I've been on the road way too long without a bathroom break…but as this trip comes to an end, I feel as though I've reached some sort of clarity.  I am happy.
I think back to the picture of the folks sitting on the beach in the middle of a chilly winter day.  I think about the woman with the squinty eyes and furrowed brow.  Maybe she wasn't confused, maybe she just got a little snow in her eyes.
We weren't crazy for taking this road trip, and neither were they for sitting on that beach.
I think back to one of my favorite playwrights, Anton Chekov, who stressed that "People don't notice whether it's winter or summer when they're happy."  He meant it, of course, in speaking about that warm nostalgic place where our hopes and dreams cross the stark cold realities of life…that place where deciding what to do with our lives, whether we should take that job that was offered to us, go on a date with that cute guy or girl, move cross-country, pursue that crazy dream, or buy that wonky coffee table that may not fit your space – but who cares…that place where life's decisions don't muddle us and we know things will be all right.
Chekov was onto something.  I don't feel the cold anymore…and I know just what I want to do next.