L'Opera de Nostalgie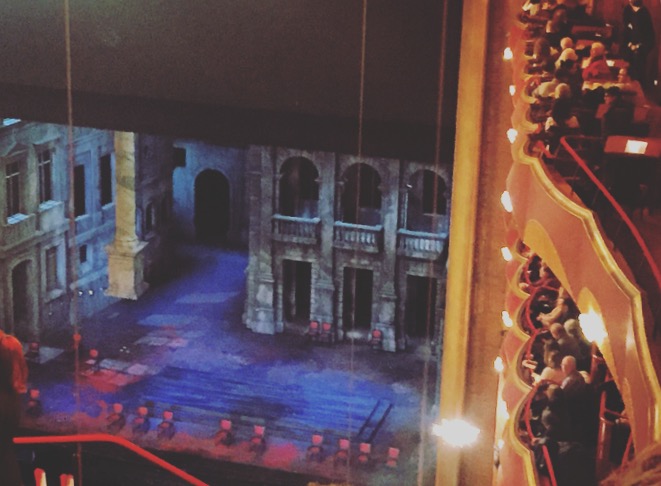 "She imagined that each of them saw the story in a different light based on their own experience, or lack of it. That, then, was the beauty of the opera to her…" ~J.J. Brown
This year, I promised that we'd go on more adventures. I said we would try new things no matter how afraid we were to do them, how awkward they would be, or how "not like us" the experiences might seem. I wanted things for us that would expand our minds, touch our hearts, and exhilarate us in a way that we've never felt before.
At the top of my list, was a road trip across the United States. North, south, east, and west…wherever the road would lead, we would follow. But one thing that scares me about the trip is that I have this idea in my head of the U.S. landscape and what it should look like. Since the 1950s, the concept of the all-American road trip has been shrouded in so much nostalgia that we've seen it depicted a million times in movies and read about it in books. We think we know what to expect. I'm afraid that I might stand at the brim of the Grand Canyon and think it's too small. Or I might go to Las Vegas and think the lights are not bright enough. Or that I might be bored at the sight of Mount Rushmore. I have such dreamy expectations about the road trip, that if it isn't just like the 1950s, then I'll be disappointed. It's a lot of pressure to put on a trip…I know.
I think I'm still a nostalgic because I can daydream about places like this…places I haven't been to and people I haven't met. It'll be a while before I can plan that trip, so in the meantime, I move on to #2 on my list: A trip to the opera.
I always imagined an evening at the opera would go like this…
We'd prepare by fastening our pearls and jewels to match our gowns that will glide across the ground in shades of navy, emerald, or ruby.
Our heels would be the perfect height. Tall enough to make us seem graceful but comfortable enough to make the rounds and sashay about with champagne in hand and our shawls softly skimming our shoulders.
We would take in the opulence of New York City at night while arriving in the luxury of a dark limousine or some other hired car. The fountain waters in Lincoln Square rise and fall at our passing.
We'd sit down for dinner amidst shimmering candelabras and silverware so reflective that the room feels ablaze in all things gold and splendid.
We'd arrive at the lobby of the Metropolitan Opera House. We would be greeted as if by old friends and ushered up the grand staircase as our gloved hands caress the architecturally curvaceous lines of the space. The crystal chandeliers hanging above our heads make it so that not one moment passes when we are not illuminated in some flattering light.
We would make our way to our red velvet seats. The best ones in the house.
The lights would dim and we'd get just the right amount of time to appreciate the bold red against the gold leaf ceiling.
The performance, Charles Gounod's Roméo et Juliette, is appropriately followed by shouts of "Bravo" and "Brava" and a series floral bouquets flung across the stage.
We'd then flee into the night, our coats open, breathing in the cool air, replaying the drama and romance again and again in our minds, hoping that some of it had rubbed off on our own lives.
Before I actually set out to go to the opera, that's what I thought it would be like. That is what I had read in books and seen in movies. So naturally, that's what I believed and dreamed about all my life. That is what a nostalgic does. We not only dream about places and moments we've experienced but we spend our time imagining those things we've never had, but want.
Then I bought the tickets to the opera and instead…It ends up being a matinée.
One would assume the sun would be out in full glory but it is winter and the weather is damp and blustery…hardly a day you'd want to dress snazzy for. I fuss around with a flowing but short dress. I keep the navy theme going but throw on a black blazer because of the chill in the air. My shoulders would have to wait until spring for any kind of exposure and now I fear I'm breaking all sorts of fashion rules by wearing black and blue. The first of many faux pas this evening.
I opt for tights underneath, as the dress is an odd length, and sheer pantyhose would prove too revealing. My feet are cold, so I throw on a pair of ankle socks. My leather Aerosoles wedge loafers with the memory foam footbed, add nothing to my fancy, but would certainly provide the comfort needed to make it through to intermission and beyond.
The only part of New York City we get to see is the subterranean world covered in soot and smelling of burnt rubber (amongst other things) as we travel to The Met on the subway.
We're starving, of course, but because of train delays we're short on time and can't indulge in any kind of sit-down meal. We Yelp a few options and it seems the only place where we might be able to get, at the very least, a warm cup of coffee and something light to eat, is the Starbucks across the street. Together, we huddle on a one square foot of counter space near the bathrooms and the "pick-up" line. We are hot and sweaty, having never once removed our coats and scarves, and our makeup now seems almost non-existent.
The water level in the fountain appears low today, perhaps in fear that the water might freeze.
We get to the lobby and have to make the lengthy line at the Will Call counter where we wait to pick up our tickets.
There is no time to take in the curves, the chandeliers, the statues, historic costumes, or any of the opera-inspired artwork on display, as the massive crowds force you to shuffle blindly up the stairs and into your seat.
We squeeze into our seats – the ones located at dizzying heights – and during the 3 hour performance, we manage our own acrobatic feat of balancing our coats, purses, and programs on our laps.
I had heard that just before the performance begins, the chandeliers rise and dim ceremoniously…something not to be missed.
Unfortunately, I missed it. The woman behind me (the one whose thick floor-length fur coat roughly rubbed against the back of my neck) dropped her binoculars then expected me to contort myself to retrieve them from underneath my seat.
We were still able to hear the shouts of "Bravo" and "Brava", except, there was only one guy doing it and annoyingly enough, it seemed that was the only thing he was there to do – sometimes even before the songs were over.
While subtitles were displayed on the individual screens in front of us, I have to say that I was pleasantly surprised I remembered much of the French I had learned growing up and only needed to look down occasionally.
The performance itself is everything I remember of Shakespeare's Romeo & Juliet…with added flair. At first, my seat seems distant and I find myself wishing I had brought binoculars like the woman behind me, but by the end of show I realize that, from my vantage point, the stationary set garners an interesting depth and versatility. I initially perceive the stage to be too narrow and wonder how they could possibly deliver a full performance on such limited means. I soon realize that the performance takes place on more than just the stage.
The singing is profound, the acting…dramatic. The booming chorus draws me in as if I should be feeling exactly what they're feeling – the joy, sadness, and fear. When they lean in to hear the Prince announce Romeo's banishment, I do too.
Music swells from the orchestra at the conductors command and the lighting crew is just as on cue as every actor that swings a dangerous sword on that stage. The cellos are constant & set the tone for suspense with the harps adding the right touch of romance to the mix.
Juliet, is naive, but tender. Romeo as impulsive as I remember him and Tybalt just as aggressive and hot-headed. The Capulet / Montague conflict is displayed as vividly as ever and is definitely a far cry from anything that would even remotely warrant a yawn during this performance.
My favorite part: the glitter. No spoilers, but early on in the show, gold glitter explodes across the stage and every once in a while, when Juliet scampers about in the dark of night with Romeo or in the heat of battle between Tybalt and Mercutio, the glitter will float up into the air adding just a little more magic to the stage.
From the opening act, when the trumpets get your heart pounding in anticipation, to that fateful ending when Romeo and Juliet lay across the stage in a passionate and star-crossed embrace, this opera is as nostalgic as I imagined it would be. The only thing that is different and slightly off-beat…is me.
When it's over, we run out with our coats still open but no one is laughing or reminiscing. I'm just trying to get out of there before someone looks down at my shoes and sees that the side of one of my leather wedges has split open. We make it back down to the subway and I want nothing more than to catch the first train home. I hear it approaching and I dig through my purse, only to come up with two MetroCards. The first has insufficient fare and as I go to swipe the second, I drop it. I'm being shoved from behind by others who, unlike me, are prepared to board. I find enough room to bend down, pick up the card, and insert it into the reader. I push forward and suddenly the turnstile jams deep into my thigh and stops. I'm already halfway through and – if I want to make this train – have to maneuver myself over it in a move that might, to the untrained eye, resemble turnstile jumping. I leap onto the train just as the doors close on the hood of my coat. I force the doors open enough to release myself and plop down onto a seat; my thigh teeming with a throbbing pain and I'm sure I'm the proud owner of a giant new bruise.
At home, I tuck myself into bed (after icing my leg) and decide to end the the night with bit of teenage nostalgia. I rent Baz Luhrmann's 1996 version of Romeo + Juliet and suddenly I'm like a school girl swooning over that fish tank meet-cute between Leonardo DiCaprio and Claire Danes.
By the end of the movie, I feel better about today. The opera is what it always has been: An emotional theatre-going experience. One that has a reputation for being elegant and refined – even for those that show up in jeans and a t-shirt. It's the experience of being in a historic and world-renowned opera house. It's watching and listening to amazingly talented artists compose a concoction of moving, living, and breathing music, art, and life. It's about being a part of a recreation of artfully written librettos – some of which are centuries old – and interpreting them in ways that suit us. That is the beauty of the opera and it always will be.
The fact that I couldn't find something decent to wear and didn't get the glamorous feel of it, didn't have the best seats, and ended up with a broken shoe and a bruised leg…that just happened to be part of my own personal first experience at the opera. The good thing about it, is that I can always do it again. I can plan better and I can make it exactly what I want it to be.
As we move on down the list of other things we'd like to do this year, remember that you can make experiences whatever you want them to be. First times, will not always be perfect, because we don't know what to expect. But that second time…you bet your binoculars it'll be good!
Onto the next adventure!