Le Passe' & All Other Things That Haunt Us…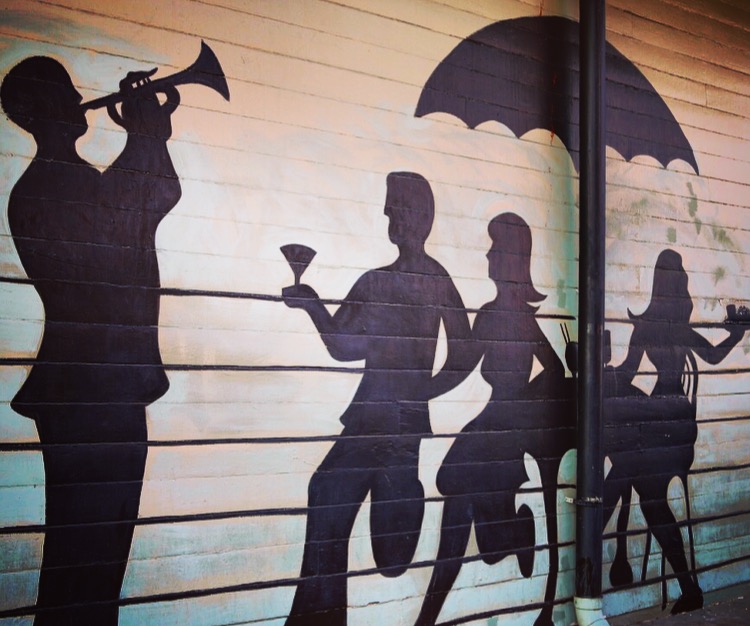 "We're all ghosts.  We all carry, inside us, people who came before us." – Liam Callanan
What better place for you and I to let our guards down and get to know each other than New Orleans.  Its nickname itself "The Big Easy" implies that this is a no-fuss city.
We arrive at the airport and immediately the warm sun hits us.  We rifle frantically through our bags for our sunglasses as if we are creatures of the night unaccustomed to this fiery light.  A taxi quickly shuffles us out of Jefferson Parish and toward the French Quarter.  We pass the Superdome, looking sleek with its anodized exterior, reminiscent of cars produced by its namesake – Mercedes Benz.  A far cry from when the building was used as a last-resort refuge following the tragedy of Hurricane Katrina.  I recall the dizzying images on television of people pouring out of there, screaming "Anarchy!" at the news crews in helicopters filming from above.
Until now, everything I know about New Orleans, I've learned from news broadcasts during Katrina; from history books that mapped out the the terms of the Louisiana Purchase; and of course, from Anne Rice novels.
After a series of twists and turns through areas that remind me of "Any Town, USA", we finally arrive at the French Quarter.  The driver takes us past Hotel Monteleone and we marvel at how, despite its height and grandeur, it blends in with the intimate street.
The streets begin to narrow and the storefronts seem to fuse, one into the other.  It is early, but the city is awake.  Long lines of hungry early risers hoping for a head start on the city's true main vice (food), flank the sidewalks in each direction.  Once at our hotel, we're informed that our rooms are not ready, but they suggest we follow suit on the lines for breakfast.  It is here, that I learned, you can put hot sauce on anything.
We walk off what will be the first of many hearty meals in this town and become acquainted with all that the oldest neighborhood in New Orleans has to offer.  The idea that the entire district has been designated as a National Historic Landmark is fascinating.
President Harry S. Truman wrote that "The only thing new in the world is the history you do not know."  That is why I wanted to visit New Orleans.  I wanted to get to know the people that live there.  I wanted to walk the historical streets that still vibrate with the weight of all those who have once stepped foot there.
I wanted to experience the music and not just simply hear it.
I wanted to taste the food that is more like a concoction of the different cultures that have called New Orleans home.
And so, on this first day, still in our travel clothes, we immerse ourselves in the city.
At 4:00 p.m. we retreat to our hotel.  It is check-in time at the Chateau LeMoyne, perhaps named after the "Father of New Orleans", Jean-Baptiste Le Moyne, or as travel booking websites on the internet recognize it – the Holiday Inn.  I was eager to see the exposed original brick walls, the leather seating, and cypress beam ceilings boasted on their hotel website.  I wanted that little bit of "history with a modern twist" as they call it.
What I didn't want were strange noises coming from my bathroom while I slept.  The slight shake of a hanger from my closet.  The tap at my balcony window or even the soft tug on the sheet at the foot of my bed.  I had read about all those things happening here.  I had hoped, perhaps, that the friendly ghosts would be on vacation while we visit.
I look out onto the balcony and while it is a nice view to the left and right, on this occasion, the building across the street is under construction, which makes for an eerie sight at night as you peek out behind the curtain onto empty floors that are once again transitioning into something else.  Back home, my own place is currently undergoing a renovation.  If I were a ghost, and had to deal with a total upheaval of my digs each time a business went under – I'd hate that.  I'd probably be inclined to slam a few doors and knock over a few glasses too.
We choose our beds, but your excuse about needing to be close to the bathroom (and conveniently the front door), in the event that the "spicy food" causes you to become ill, makes your method of selection quite suspect.  Particularly, because our balcony is shared by the neighboring room, and that is a bit creepy…
Never-the-less, we laugh it off and decide that this isn't New Orleans in the 19th Century and there are no such things as murderous brutes who may come banging on our balcony door or witches who may swoop in on their broomsticks while we sleep…right?
At night, we catch our first glimpse of the navy sky as we make our way to dinner.  This was the New Orleans we imagined.  The gas lamps, the shadows at every corner, the impromptu parades, the sudden toot of a trumpet or wail of a saxophone, the savory aroma pouring out onto the streets and luring us in like some whiff-stricken caricature.  The city is a-glow, almost in a supernatural way.
We dine, we listen to jazz, we chat up strangers, and we just…take it easy.  Feeling totally relaxed we decide (Yes…on a Saturday night) that there might be no harm in walking down Bourbon Street…
We turn the corner and it was like an exorcism of serenity, where every ounce of ease we had summoned during our evening excursion, was out the window.  Granted, it was past midnight, and everyone here probably had a collection of plastic frozen Hurricane cups stashed somewhere.
To walk down this street, you have to be alert.  The fetor of barley, hops, vomit, and urine instantly intoxicates you.  You must look down to avoid the trickster potholes and uneven sidewalks.  You tiptoe around unappealing puddles of questionable fluids.  You look up to avoid being dripped upon, spit at, or strangled by strings of rogue beads.  You dodge left to avoid getting blindsided by the galloping derriere of one the New Orleans Police Department: Mount Division horses.  You bear to the right to avoid a collision that would end with a lukewarm drink sloshed across your front.  Music seeps out of the doors and windows of every bar and store.  Men, wearing printed T-shirts that declare their questionable morals, stand outside of cabarets, winking and inviting us to secret shows that promise "Hot Bodies Inside".  Some corners are rowdier than others; some more pungent, but all part of the experience.  To walk down Bourbon Street is to have all of your senses engaged.
We make our way back to our hotel, completely satisfied by our grand welcome to this city, even with the token of Bourbon Street's appreciation smeared on the soles of our shoes as a permanent and rancid souvenir.
I get the feeling that this is what it its like down here:  a little fast sometimes; mostly slow; a little loud because they love their music, yet quiet, at times, because they have secrets; a bit savory, but surprisingly sweet.
We sleep like babies and manage to escape being hacked to bits in our sleep by the infamous Axeman…or at least that's what we tell ourselves in the morning.  Even in our slumber, our assumptions and imaginings about New Orleans are without restraint.
This next morning brings us on an early tour of local cemeteries like St. Louis Cemetery #1 and Lafayette Cemetery #1.  The tour guide joked "You know you're overpopulated with the dead, when you have to start numbering your cemeteries."
I've caught glimpses of them in movies like Double Jeopardy, Déjà Vu, and Easy Rider, but to walk within the walls of the Cities of the Dead was quite spellbinding.  For one thing, although you can see various rooftops and trees over the walls, those landmarks provide a false sense of security.  Once you take your eyes off of them, you are destined to get lost.
The cemetery walls themselves barely cover an area of over one square block but the layouts could prove difficult to navigate with sharp dead ends or crumbled and open tomb surprises.  It was said that, the occupants were in a haste to choose their plots, as many succumbed quickly to yellow fever and overcrowding became an issue at other cemeteries nearby.  We make it through the mazes after a few Nicholas Cage jokes (a favorite past time for the tour guides) and wander off into the Garden District.
Here, we encounter all of the southern charm we expect to find in Louisiana.  There are antebellum mansions complete with tall wrought-iron gates, gas lamps, and floor-to-ceiling windows that allow every bit of light in, but the very sun itself.  We explore gardens, plush and green, as if they had not gotten the memo that Autumn has set in and winter was near.  The antique shops, galleries, novelty stores, and sweet spots that dot along Magazine Street, make for an interesting afternoon walk.
Our tired feet could use a ride back to the hotel, but the only proper way back to the French Quarter, would be in a streetcar.
We board the St. Charles Streetcar and it's as if we're instantly transported to a different time.  Our hands grasp the cold brass that will inevitably leave behind a metallic reek that we won't be able to wash out for days.  We make our way to seats laden with mahogany slats so hard that we worry whether it will leave embarrassing creases on our backsides.  We watch as the conductor jabs the controls back and forth and a hint of smoke begins to rise from the handles.  Above our heads, a series of naked lightbulbs line the ceiling.  For being the oldest operating one in the world, this thing runs like a well-oiled machine; confidently clicking, clacking and rumbling its way toward each stop; maneuvering through traffic; and stopping sharply for distracted pedestrians.  It is quite the ride.
Back in the French Quarter we walk hurriedly past Bourbon Street, eyeing it with a "You know what you did last night" kind of look.  After dinner, we ready ourselves and steady our nerves for what is to come – a ghost tour.
We line up for our tickets at a kitschy meeting place aptly called The Voodoo Lounge.  It is here that we learn about the New Orleans not documented in the history books.  On this chilly night, we line up two by two, for a trip down dark streets that, although exactly the same as those we've walked during the day, no longer resemble anything we remember.
Tonight, if only for an hour and a half, the vampire Lestat can scour the streets in search of fresh blood; Marie Leveau, The Voodoo Queen, could cast her spells; Madame Delphine LaLaurie, cruel mistress, slave torturer and serial killer, could be heard hollering at the help from her parlour; the Turkish Sultan can entertain once again at the Gardette-Leprette Mansion before the massacre; wives on Ursulines Avenue could sleep soundly knowing that it would be a while before their butcher-inspired husbands would jam their lifeless bodies into a trunk; and Pierre Antoine Lepardi Jourdan can gamble one more lucky hand without losing his treasured home or his own life.
At the start of the tour, the guide asks if anyone believes in ghosts, you and the guy holding the "Huge Ass Beers" (a local watering hole and restaurant) cup, are the only ones who raise your hands.  The rest of us carry on with slick smirks on our faces, that is, until the final stop of the tour.
We promptly huddle together across the street from Madame Lalaurie's Mansion, which is easily labeled the most haunted house in New Orleans.  The windows are are covered by heavy drapery and the front vestibule decorated in what is obviously an attempt by the current owners to humor the tourists.  Locals, on the other hand, usually won't even walk under the home's gallery, choosing instead to cross the street well in advance.  The tour guide reminds us that, only two in the group made it clear that they believed in ghosts, while the rest of us brave ones were encouraged to cross the street for a closer look at the vestibule.
One woman asked the guide how close she could get before "You know, something gets on me?"  The guide shrugged and said "I don't know.  You're on your own," in a very "and I seriously mean that / I don't play with ghosts" kind of way.  All of these folks declared an absolute denial of the existence of ghosts, yet here they were, clutching their beers and each other, too afraid to cross the street.  I watched as an elderly couple from another tour walked over to the front gate.  If they can do it, so can I.  Besides, I didn't want to disturb the residents, I just wanted a photo.  I cross and quickly snap the picture.  My heart is beating.  My lip is actually quivering.  This is crazy! Why did I cross the street?  For a moment, my feet are frozen and I'm mesmerized by the glass panes on each side of the door.  I quickly whisper a breathless prayer and shimmy my shoulders, making sure to shake off anything that may "get on me".  I rejoin the group and find you snapping away feverishly, trying to determine whether any of the green or white orbs in your photos resemble something.  The guide begins to bid farewell just as you slowly tap me on the arm.  You call my name, but I am too busy digging through my purse for a tip for the tour guide.  When I finally turn to you, your face is frozen; your finger sliding across your phone in a frenzy.  "My pictures are all upside down.  My pictures are ALL upside down."  Your not yelling, but your voice begins to take on a concerned pitch.  I lean in and almost instantly whip out my phone to document what I saw.  All of the pictures on your phone – from the this trip, previous ones, from past birthdays to weddings, and baby showers, even that screenshot of your favorite tamale recipe – they were all upside down.
We try to explain what has happened to the tour guide but he doesn't seem to want to entertain such a report.  He says blurred images, orbs, and other strange happenings have been documented in photos by tourists and locals alike.  He didn't wish to comment further and certainly didn't want to lay a finger on our phones as if we were now the bearers of bad juju.
We flip through your album for several minutes, when finally we put the phone down in disbelief, and realize that we are still standing in front of the house.  We scamper around the corner and check the phone again.  The photos are no longer upside down.  We look around and notice that we are the only two on this side street and that, according to recent news reports, as lonely tourists, we may have more to fear than just ghosts.  We make a mad dash for the hotel and settle under our respective bed covers without a word.  We were safe now, unscathed, with the exception of our frayed nerves.
In his novel, All the Pretty Horses, Pulitzer Prize-winning novelist and playwright, Cormac McCarthy writes about a young man, the last in a legacy of Texas ranchers, who is left to cope with sale of the family ranch and the final link to his past.  MccArthy writes "Scars have the strange power to remind us that our past is real."
Aside from comfort food and cozy sweaters, this time of year – with its dead leaves, dark sky, and chilly air – is best known for its tales of witches, vampires, goblins, ghosts, and all varieties of the undead, but some might say that there is nothing scarier or nightmare-inducing than our own past which is very much alive in us.  Those things within ourselves, that we only remember in pulses and flashes because they are too frightening to relive all at once and, much like flood waters can easily overwhelm and leave us gasping for air.  They are the pieces of ourselves that we ignore, but certainly can't forget, much like the markers around the city commemorating births, deaths, wars, victories, and defeats.  Much like the cemeteries that house the remains of loved ones, they are the places in our memory that we enter out of familiarity, but whose tricky paths quickly entangle us and and make us lose our way.
Many are quick to blame New Orleans' colonists for its colorful past.  They say "Well, what do you expect in a city populated by thieves, prostitutes, murderers, vagrants, and smugglers,"  In the same way that we say "Well what do you expect…" about ourselves.  We blame our mothers and fathers, our family members, the homes in which we grew up in, we blame the town folk and schools,  the president and our country's laws, and we even blame ourselves.  But in the end, all we really want is to think that we have grown to become better people than that which we once were.
We've all been through something.  We've all been challenged in ways that, at one point or another, we thought we'd never overcome.  For some, the past binds them and pins them down unmovable, as if under some spell.  For others, the past has slowly faded away and only chooses to reappear in the form of orbs and shadows recognizable in moments of weakness.  The past haunts us, even until this day.
As author Libba Bray writes in one of her popular Young Adult novels, "Every city is a ghost.  New buildings rise upon the bones of the old so that each shiny steel beam, each tower of brick carries with it the memories of what has gone before, an architectural haunting.  Sometimes you can catch a glimpse of these former incarnations in the street or filigreed gate, an old oak door peeking out from a new facade, the plaque commemorating the spot that was once a battleground, which became a saloon and is now a park."
This city, like many of us, is only what it is now because of what it has been through.  From the Great Fire of 1788, to the Yellow Fever epidemic, to Hurricane Katrina, and everything in between, New Orleans has faced eradication on quite a number of occasions but it somehow stands up to the challenge and comes back stronger every time.
As we move forward in what is left of this year, we look to New Orleans as a symbol what personal strength should be.
Some say the land under New Orleans is sinking.  I say, if they haven't gone anywhere since the 1700s, they won't be budging anytime soon…New Orleans is simply just repositioning and preparing to give rise to new bones.
I didn't expect New Orleans to be perfect, because no one with a tainted past can be…but what I got was pretty darn close.